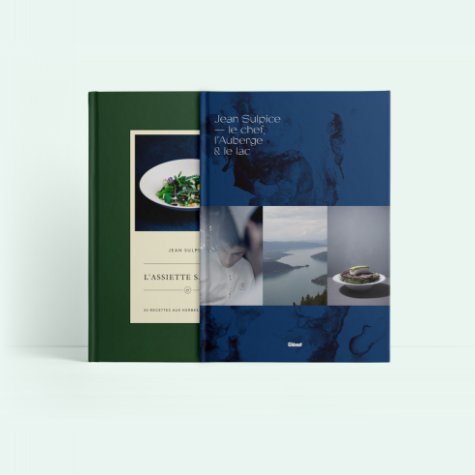 Box of books
Box delivers Jean Sulpice with "L'Assiette sauvage" and "Jean Sulpice – the chef, the Auberge & the lake"
 Delivery of the book within 8 to 10 working days.
85,00€
Detailed description of the product
The chef, the Auberge and the lake: Three passions animate Jean Sulpice: the mountains, gastronomy and sport. He translates them into a daring cuisine, all of freshness and balance. It is on the shores of Lake Annecy, in the enchanting setting of the Auberge du Père Bise, that this two-star chef in the Michelin Guide and 2018 Gault & Millau Cook of the Year gives free rein to his immoderate taste for nature. through a cuisine made of precision, creativity and energy.
The Sauvage Plate: How about getting back to basics? Through this new book, chef Jean Sulpice, accompanied by plant picker Stéphane Meyer and photographer Franck Juery, continues to poetically share his infinite passion for wild herbs and nature. With more than 45 new and original recipes accessible to all, "L'Assiette Sauvage" makes you want to (re) discover the herbs and flowers that surround you, even on your plate …