Chers clients, suite à l'arrêté gouvernemental du 14 mars 2020 lié au Covid- 19, nous sommes dans l'obligation de fermer notre Maison.
Au plaisir de vous accueillir à nouveau prochainement.
Magali, Jean et toute l'équipe de l'Auberge du Père Bise.

Chef by Nature
The chef Jean Sulpice
His instinctive and essential cuisine reveals most authentic flavours. He relies on noble products such as lake fishes and aromatic herbs to create original and genuine savours.
Haute Savoie
Nature
Talloires
A man of seasonsLiving, breathing nature
At the age of 40, Jean Sulpice has finally found in the Auberge du Père Bise a venue in perfect harmony with his culinary identity. A profoundly natural setting bathed in a peaceful light from dusk till dawn. In the forefront, the translucent lake and its ever-changing colours that remind him of his childhood spent in Aix-les-Bains. With Florent Capretti, the inn's designated fisherman, Jean explores the smallest nooks of the lake trying to better understand and respect this ecosystem. Because for mankind, nature only has meaning through the relationship we maintain with it. From the lake, the eye wanders up towards the summits above, the grey verticality of rocky cliffs. Both these natural dimensions – liquid and mineral – inspire Jean Sulpice's pure and flavourful cuisine from one season to the next.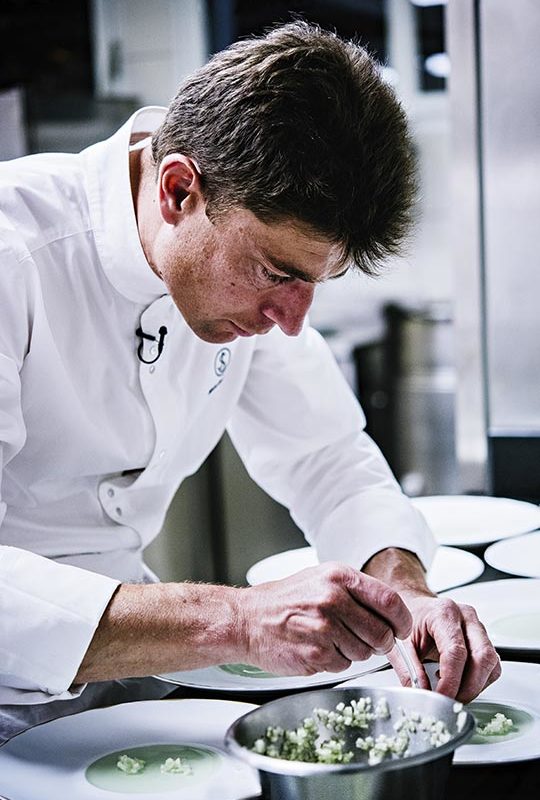 Born into a family of restaurateurs for three generations, Jean Sulpice combines his two passions with tremendous intensity: wide open spaces and gastronomy. His cuisine has always been a perfect blend of both. A keen athlete and a mountain enthusiast in all its forms, Jean Sulpice enjoys walking off beaten paths to get even closer to nature. For fifteen years at 2,300 metres above sea level, in the highest ski resort in Europe, Jean Sulpice took on the challenge of offering gastronomic cuisine in on high mountains. He was rewarded with a first Michelin star in 2006, and a second in 2010, at the age of 32.
In 2017, Jean Sulpice moved back to the Lake Annecy of his early years as a cook next to Marc Veyrat, for whom he was second de cuisine for five years. It's at that time that he met Magali, sommelier at the time, who became his wife and the mother of their two children. They both decided to move back to the shores of Lake Annecy to write a new chapter in the beautiful history of the Auberge du Père Bise. And a successful one at that. As soon as the widely renovated hotel reopened, it was awarded five stars and Jean Sulpice was named Chef of the Year 2018 by Gault & Millau. In February 2018, the gastronomic restaurant received 2 Michelin stars.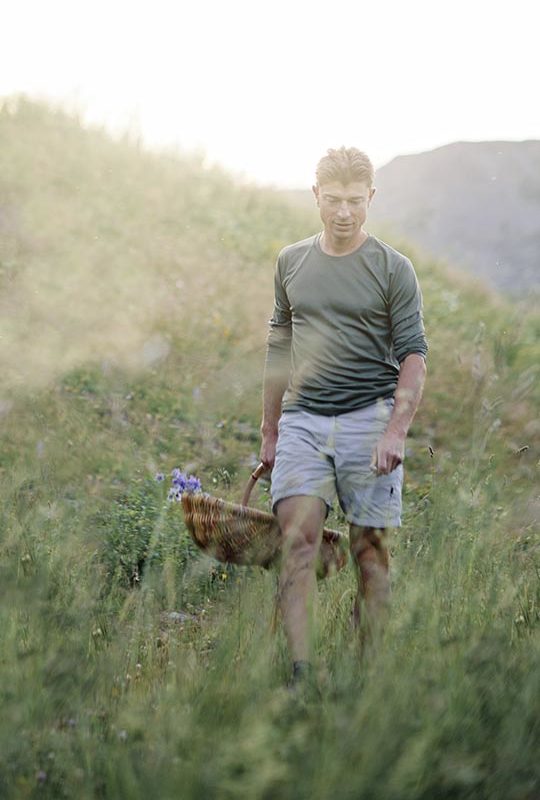 Back to top